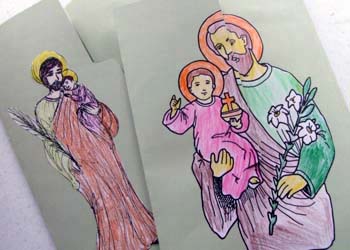 Our St. Joseph Lapbooks were inspired by Shower of Roses. Jessica has compiled some great resources for putting together lapbooks so don't miss her post. Our cover coloring pages are from the Virtual St. Joseph Altar. You'll find several to choose from.
Inside our lapbooks we have the symbols of St. Joseph inside a petal pentagram, Jessica's St. Joseph Memory Match game cards, and also thanks to Jessica, flaps that reveal the two Feasts of St. Joseph.
I let the kids draw in the symbols of St. Joseph, We also have beautiful laminated holy cards from Aquinas & More which I had imprinted with my favorite prayer to St. Joseph: The Unfailing Petition.
A scroll lists some of the things St. Joseph is Patron of, and we included a Novena to St. Joseph. There is also a spot where the child can make a list of the things he will make for our home St. Joseph Altar.
These were fun to make, and I can't give enough credit to Jessica at Shower of Roses!